Precious Paws Rescue, Inc.
"Making a Difference ... Saving Lives ... One Dog At a Time"
Phone:  (704) 509-9861

Animals Shown By Appointment Only.
We accept telephone calls and inquiries:
Monday thru Friday 9am - 8pm EST
Saturdays 9am - 3pm EST

If no one is available to take your call, please leave a detailed message and we will return your call as quickly as possible.

Email: rescue_admin@preciouspawsrescue.com


                            

Click here for our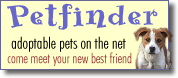 Petfinder.org Affiliated Shelter


Please review our Adoption Policies, Terms & Conditions.