Rainbow Bridge ~*~ Memorials Page

This page of our site is dedicated to the beloved pets of our friends,
family, rescue group volunteers, supporters, adopters and the general community.
If you would like a photo of your pet posted on our site,
please contact us and we will be happy to do so.
In Loving Memory of Bailey
May 2002 – March 16, 2013
I adopted Bailey (aka "Blaze) in 2004 from Precious Paws.
Bailey was the most loving companion I could ever ask for.
He stood faithfully by my side during many milestones in my life.
I could always count on him to greet me at the door after a long day at work, tail-a-wagging.
His sweet disposition always put a smile on my face.
Rest peacefully my sweet boy.
You will forever be in our hearts.
In Loving Memory of Zahra Kimbra
Beloved Pet of Wayne & Nicole Cline
June 9, 2001 - November 5, 2012
Zahra was the first puppy that Wayne and I got together ...
he picked her out of a litter at a breeders. She was a shy little blonde with the
softest, freckled nose and curly ears. It took us a week to name her, trying to
... find "just the right name" to suit her. We settled on "Zahra Kimbra". Zahra was Egyptian for
"flower" ... and Kimbra is Old English for "from the fortress meadow".
She loved the boat and the lake, playing fetch, and playing tug of war with a rope with Donovan,
the first rescue cocker saved by our non-profit, Precious Paws.

She ushered hundreds of rescued dogs through our home over her years, helping them through
acclimation to new environments, and teaching them what "the good life" was, giving them hope.
She taught them how to train their humans, beg for table food, and that there really is no such
thing as a "bad dog" ... your people will love you even when you do things you aren't supposed to.

She had cataracts at age 4, which we tried to have fixed, and then glaucoma caused her to
go blind. Unlike many cockers with bad ears and blindness that get moody and temperamental,
her loving disposition never changed. She was as humble and loving blind as she ever was when sighted.
She even "re-learned" to play fetch; we bought her squeekers that would make noise while flying through the
air, and she would find them and bring them back happy as ever.

She was the closest thing to a child that Wayne and I will have - lost both times we've tried, and now
we've lost her too.

The rescue will never be the same without our Matriarch cocker guide, and my heart will never be unbroken from
her loss. Rest in Peace, my little girl. Mom and Dad love you.
In Loving Memory of Dakota (aka "Boo")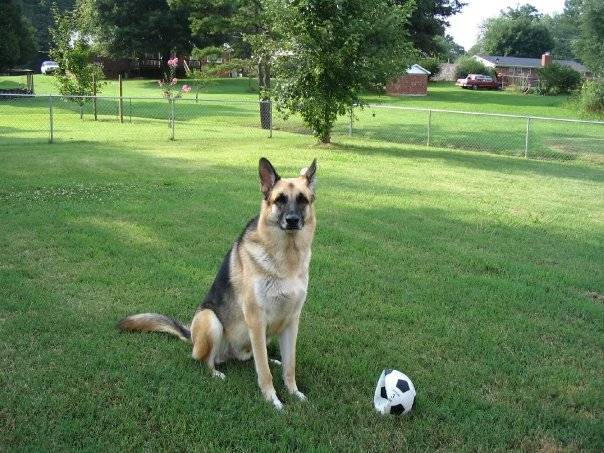 Beloved friend and member of the Zink Family,
Crystal, Ryan and Jamey.
December 2002 - October 19, 2010
Dakota became part of our family shortly after we got married. When we went to meet the breeder and choose a pup, Dakota actually chose us. He was a loving friend, protector and playmate. You will be dearly missed and always remembered! Have fun across that Rainbow Bridge with your big sister Lacey, now you two get to romp and play like you used to.
We love you always.
In Loving Memory of Natasha
Beloved Pet of Wayne & Nicole Cline
March 1995 - August 2010

Natasha Cheyenne-Blue was the first Siberian Husky I owned. She was trained by Mark Thompson of Dog Training In Your Home, and was a wonderful pet. She was the matriarch of our "fur kid family" and was often referred to as "The Enforcer" because when the other dogs got out of line and she came off the couch, they knew they were in for it! She loved the lake, anything to do with water, riding on the boat, and riding anywhere in car, except the vet (no offense, Uncle Jack!) We'll miss her terribly, but we take comfort in the fact that she had 15 long years with us in which I believe she was happy every day! Much love, baby girl. I'm going to miss those eyes and you "talking" to me when I come home.
In Loving Memory of Donovan
Beloved Pet of Wayne & Nicole Cline
2002 - January 2010

Donovan was the first cocker we pulled from the Charlotte-Mecklenburg Animal Control, and he came to us with the name "Donut" at the approximate age of 15 months old. He was a wonderful little dog, and was the constant companion to Wayne's blind cocker, Zahra Kimbra. He was taken from us early, when he was unexpectedly attacked by a boxer that belonged to a family member. We'll miss him terribly ... Rest In Peace, Little D, we love you!

In Loving Memory of Airy Dandro
with love from your Wachovia Friends Tiese, Lori and Ruth
Beloved Pet of Jim and Debra Dandro
? ~ October 2009
In Loving Memory of Clemson, by Diane Chandler
1993 - 2009
My brother's and sister's- in- law beloved dog passed away February 13, 2009. He was sixteen years old. Although he had a good life with them, they are devastated and I'd like to post his picture on your site in memoriam. They rescued him from a shelter when he was a puppy. He'd been in declining health for the past two years, but they took excellent care of him and would not go away unless the could take him, too. He was a lucky little dog to have had so much love.
In Loving Memory of Zoe & Bobo
Beloved Pets of Dennis Bender

February 14, 1994 ~ April 24, 2004 ? ~ June 11, 2004
Our Prayers are With You.
In Loving Memory of Crystal, 19 yrs.
Beloved Cat of Ann Hooper
by Pat Rickert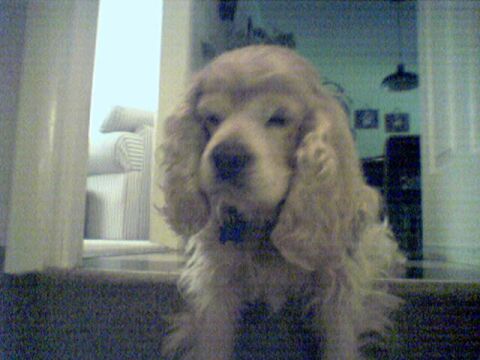 Frosty

? - June 21, 2005

In memory of our loving dog Frosty who came to us in March of 2004 through Precious Paws Rescue. He was a wonderful blessing and brought so much love into our home. We will never forget him and we will always love him. We will think of him every day.

Doug and Jana Crouch, Hickory, NC
Sugar
October 12, 1989 - June 23, 2005
Our thoughts and prayers are with Ms. Peggy Hayden, human "parent" to Sugar (pictured above). Sugar passed at the age of 16 years old, following a long battle with declining health conditions. She was a much loved companion, and will be dearly missed. Peggy has been a thoughtful and supportive contributor to Precious Paws since our first year in the rescue business, and we love and appreciate her dearly.
Charlie
? - October 3, 2005
Charlie was the beloved 4-legged companion of Greg and Diania Combs, who adopted him from Precious Paws in July of 2003. Charlie came to rescue with heartworms, and he was treated and then adopted to the most loving family a cocker kid could ask for! He was so rotten, he sent "Mommy and Daddy" back to Precious Paws in November of 2003 to get him a companion, Rachel Ann. Charlie passed at the age of approximately 8 years old, following declining health conditions. Our thoughts and prayers are with Greg, Diania, and Rachel during their time of sadness.