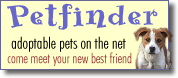 Petfinder.org Affiliated Rescue Organization
See Our Available Pets at Petfinder.org

Our Mission and Inspiration
Our organization is devoted to changing the way animals are treated by our society. We believe that through "leadership by example", providing community education and insight on proper care of animals, responsibilities of pet ownership, the importance of spay and neutering pets to control the population and ensure the overall health and quality of each breed, bite prevention and animal cruelty prevention ... we will be able to forever change the fate of future animals so that eventually euthanasia is only an option when it is medically necessary.
To quote a line from the song "Three Wooden Crosses" by Randy Travis ... we believe that "it's not what you take, when you leave this world behind you ... it's what you leave behind you when you go" that counts ... and we at Precious Paws Rescue, Inc. are dedicated to leaving a legacy behind us that will forever change the face of rescue.
About Our Organization

Precious Paws Rescue is an animal rescue / re-homing organization based in Charlotte, North Carolina. Established in 2002, we are determined to make a difference for the animals. We have obtained non-profit, tax-exempt status in the state of North Carolina as well as federal exempt status with the IRS. This status allows us to accept grants and donations from individuals, corporations, private organizations, etc. and classify them as tax-deductible for the giver.

Our organization "makes a difference" for the animals in many ways. Foremost, we rescue animals from kill shelters and pounds and place them in "foster homes" until a suitable permanent adoption can be arranged. During the time we have the animal, they are provided with the best of care - including health reconditioning (if needed), updating them on vaccinations, etc. and getting them started / continuing them on various recommended preventative regimens for heartworm prevention, flea / tick prevention, de-wormer for puppies, etc.

We provide a safe haven for owners who have to relinquish their pets, for whatever reason, so that these animals can be re-homed with loving families without the worries of whether they will make it out of the county pound alive. Since they go directly to foster homes after being evaluated by our vet, these animals are spared the anxiety of spending countless hours in a kennel surrounded by strange dogs ... wondering where their owners have gone, and why no one has come back for them. They go directly into the home of a loving, compassionate foster "parent" ... who gives them lots of attention and TLC!

We are one of the only rescue organizations in the Charlotte area to offer a "Foster To Adoption" option to potential families. This program allows a potential adoptive family to "try" a pet, in their home ... basically a trial adoption ... to see how the pet adjusts to their surroundings and lifestyle, and how their family members adjust to having a pet. This program is an excellent means to achieving a "best possible match" between a pet and it's new home! We want each placement to be as close to perfect as possible, so that everyone involved is happy and well-adjusted.

Our Sponsor/Donor program welcomes both individuals and organizations to "sponsor" a pet advertised on our website - offsetting some of the organization's costs for maintaining the animal until it is placed. This allows people with busy lifestyles to contribute to our cause without taking on the responsibilities of maintaining a pet in their home. The period over which a pet is "sponsored" is totally up to the donor.

Our "Seniors For Seniors" program allows senior citizens that meet our application requirements to adopt a senior pet at a reduced rate, with the benefit of continuing to receive the rescue's discounts on veterinary services. We also assist our senior adopters with transport to/from veterinary appointments, grooming appointments, etc.

Our "Pets 4 Therapy" program is a developing program in which we work with youth organizations, assisted living community homes, and other health care and community outreach organizations to give those who might otherwise not have the chance an opportunity to spend time with a pet. They may not be in a position to maintain a pet on a daily basis ... but the benefits of pets with varying types of medical patients has been well proven over the years, and we feel this is a program worth investing time and effort to support!

Finally, we accept monetary donations and contributions of new or "gently used" pet-related merchandise to assist in our care of these animals.


Our Goals
We at Precious Paws Rescue, Inc. are raising funds for a facility that would allow us to house over 250 dogs and/or cats waiting for their "forever home". We believe that this facility would be a great service to Charlotte and our surrounding communities and neighboring counties, and would be a great step towards reducing the number of animals that are needlessly euthanaized in shelters each year. We welcome private and corporate donations designated specifically to helping us achieve this goal!

We are available and able to provide educational services to our community to increase public awareness of the need for sterilization of pets to control the populations and reduce "backyard breeding" that so often results in litters with less than desirable personality traits and poor health. If your school, church or other civic organization would like for our representatives to make a presentation to your group, please contact us!
Our Staff
Nicole Cline, Director ~ Nicole is a Master Certified ORACLE Database Administrator, currently employed by Wachovia, a Wells Fargo company in the Team Member Enablement Division of Operations & Technology, based out of Charlotte, NC. She graduated from the University of North Carolina at Charlotte in 1995 with a Bachelors Degree in Computer Science and a minor in Mathematics. Animals and animal welfare have been a personal passion since early childhood, so her friends and family were hardly surprised when she decided that a newer, fresher approach to rescue efforts was needed ... and when she didn't find a niche available in the Charlotte area where she could serve as a volunteer, she co-founded this non-profit, no-kill organization.
Wayne Cline, Operations Manager ~ Currently working as an HVAC controls engineer in the commercial HVAC installation industry, Wayne has always had a love for animals and a genuine interest in the plight of homeless animals, community education, development of spay and neuter programs, and the much needed "change" to the way animal welfare and rescue have been approached for the last 20 years in the Charlotte area. He recently completed a Bachelor of Science degree in Biology / Chemistry at the University of North Carolina at Charlotte.
Miller Animal Hospital ~ Affectionately "Uncle Jack" to all the rescued animals, a very special THANK YOU goes out to this dedicated DVM and his staff! Dr. Miller has gone above and beyond anything we could ever have asked or expected ... always being there for the animals in their time of need ... day or night ... weekday or weekend ... office hours or after hours ... Precious Paws would not be what it is without him!
Our "Foster Home Volunteers" ~ Without the continued support of these very special individuals who open their hearts and homes to the furkids, what we do would be MUCH MORE DIFFICULT! Many thanks to all of the following for providing foster homes to our precious pets while they are awaiting their "forever homes".


Back to Home Page
Information on Sponsoring & Donations
Become a Foster
Available for Adoption